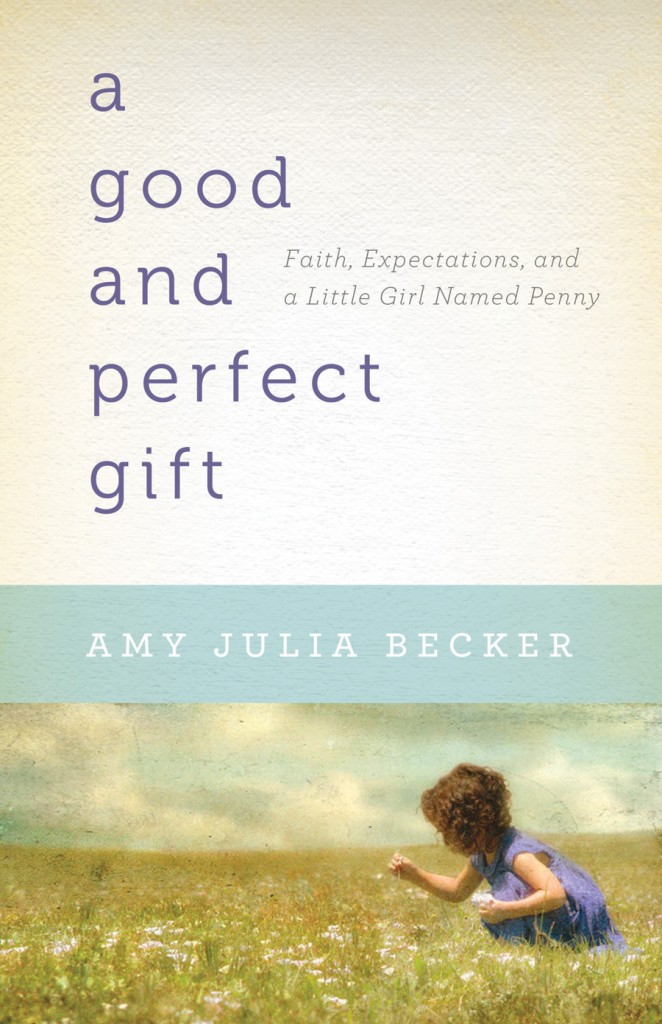 After 3 days in the hospital, I was discharged to go home with my baby girl who had been diagnosed with Down syndrome. Any parent who has received a diagnosis understands how hard it is to deal with it at the beginning. There is a lot of grief and fear when you know so little about what the diagnosis will mean to your family and your child. On the way home from the hospital, we stopped at a Christian bookstore. I asked one of the clerks for their special needs section, which they did not have. I then asked for a book on special needs or Down syndrome, which they did not have either. Among their hundreds of books there was nothing that would help me deal with my baby's diagnosis or that could give me hope and understanding. Thankfully, I was able to find the book "Gifts" at Barnes N Noble, which till this day continues to be my favorite book written by parents for parents, about Down syndrome.
A Good and Perfect Gift by Amy Julia Becker is the book I had hoped to find 4 years ago.
Written from a Christian perspective, Becker invites us to journey with her as she wrestles with her daughter's diagnosis with Down syndrome. She shares the lessons learned and the ways in which God changed her perspective and rearranged her priorities. It is a beautiful, open, honest memoir of her experience dealing with her child's diagnosis. Like the subtitle of the book says, it is about faith, expectations, and a little girl named Penny.
As a mother of a child with Down syndrome, and as a Christian, I was able to relate and appreciate Becker's journey. I still find it incredible that somehow, with all of us being so different from one another; our children with Down syndrome teach us similar lessons.
The book is divided in 3 parts. The first 2 parts were my favorite "This Child" and, "Whoever Receives This Child, Receives Me". Her last section "Just Penny" seemed to focus on her daughter and all that she is able to do. As much as I loved the first 2 parts, I wrestled with her last section. Penny seems to be a very "high functioning" child. So much indeed, that I had trouble "seeing" that she has Down syndrome. In fact, Penny seems to be "normal." Penny's speech, communication, and behavior at age 2 were outstanding, which made it hard for me to relate to her since my 4 year old is not there yet. And I felt guilty. Guilty that maybe I was not doing enough for my daughter. It made me wonder if her portrayal of Penny was accurate. It is other parents with kids with Down syndrome that will be drawn to her book, and I wonder if others will feel the same. Maybe not, maybe, Amy Julia's book has simply challenged the insecurities I feel as Nichole's mom
Overall, I liked her book. I appreciated her story. (I have edited this post)
Here
you can download and read the first chapter of the book.
So, if you would like to get a copy of "A Good and Perfect Gift" by Amy Julia Becker, leave a comment! On Sunday (Nichole's birthday) she will draw a name and
Bethany House
will send you a copy of the book!
And the winner is...